Social media platforms are constantly competing against each other to be the top network. With that it means they are constantly updating and evolving, with their old best practises and previous popular functions becoming fast out-dated.
So in this blog post we are going to update you on the new upcoming changes and features many of the big social media platforms are currently trialling.
LinkedIn Sponsored InMail
Sponsored InMail has been around for some time, and you've probably received it yourself, but not through the new self-serve platform. While the effectiveness of customised email outreach will vary, LinkedIn pitches the function as a good way to generate more opportunities for your brand by utilising LinkedIn's advance audience targeting tools to reach the right audience.
Sponsored InMails come with in message CTA buttons and are only delivered when members are active on LinkedIn. LinkedIn also have strict limits in regards to how often LinkedIn members can receive to avoid spamming concerns.

Facebook's Snapchat Clone
Facebook are still going to every effort they can to copy Snapchat and out do them.
Following on from their Instagram Stories, Messenger Day and new Snapchat like features in both Facebook and Whatsapp, Facebook are also focusing their efforts on creating another dedicated Snapchat cloning app, but focused on being released in developing markets.
The new clone is called 'Flash' and is a stripped down version of Snapchat. Flash has reportedly been specifically built for regions where Wi-Fi access is limited and connectivity is weak. Flash is less than 25MB in size, around a third as big as Snapchat, and includes a range of visual editing tools and messaging functions designed to run at low capacity.
The app has only been made available in Brazil so far, but is set to be launched in more regions soon. Facebook's strategies with these new launches are clever and the company is not being seen as the copycat, but the innovator.
So if Snapchat set out to get their app working in countries that have restricted Wi-Fi and connectivity, they could be behind in the game.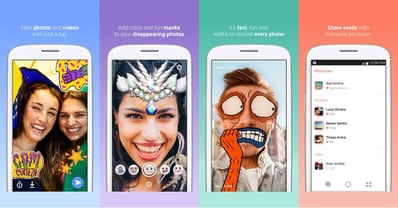 Pinterest Expands its Marketing Partners
Pinterest have been on a march towards becoming a key ecommerce hub, and the platform has announced an expansion and renaming of their Marketing Developer Partners programme.
It's now to be known as Pinterest 'Marketing Partners', and the new group includes two new areas of focus – 'measurements' and 'audiences'.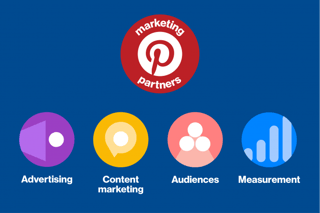 Facebook Connects Europe
This is not a new update for Facebook, but more of a highlight. Facebook's research team have released a new graphic that charts how Facebook users are connected across Europe.
Facebook have also found that each year, the proportion of new international friendships is growing, with noted spikes every August when Europeans or most likely to be travelling.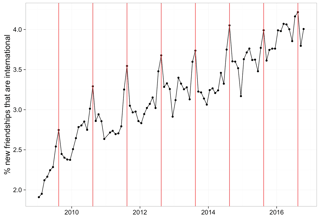 Facebook Marketplace Suggested Queries
If you don't know about Facebook's latest Marketplace edition then you can find out more about it here.
Facebook have added to their marketplace option by giving users template response they can use for Marketplace posts, which is there to help people know what they need to ask.