What Is Mobile Commerce?
Mobile Commerce is the buying and selling of goods and services through cellular devices. Mobile commerce is the next-generation e-commerce; it enables users to access the Internet without needing to use a device that plugs in (desktop computers).
Mobile commerce is not a separate entity from e-commerce; it's a more specific sub-group of e-commerce transactions, which involves the use of smartphones and tablets, instead of desktop and laptop computers.
Why is Mobile Commerce so Important?
Global mobile commerce now makes up 34% of all e-commerce transactions around the world, with that figure predicted to grow by 31% in 2017. Whilst it is also predicted that e-commerce will grow by 15% in 2017.
This therefore shows the growth at which people are resorting to purchasing things from their smartphones and tablets rather than using desktop computers and laptops. M-commerce offers more convenience to the people of today, allowing them to make purchases on the go.
In 2015, we saw two major developments in mobile marketing. With the first being the announcements of Google's major algorithm update that rewards mobile-friendly websites, and penalizes those that aren't fully optimised for mobile in mobile search results.
A few weeks later, it was then seen that the number of Google search queries on smartphones surpassed the number of queries on desktop computers and tablets.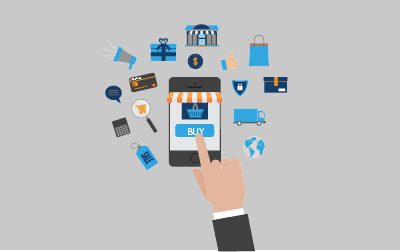 Given the growing popularity of mobile Internet and shopping, failing to provide your site visitors with a mobile-friendly shopping experience might just be putting you at a disadvantage.
Can you afford to Not Have a Responsive Web Design?
Responsive web design is the term used to describe a website that adapts to the size of the display on the device it is viewed on. Find out more on responsive web design here.
With m-commerce rapidly growing, it is not an element that can just be ignored. With the biggest factor being that search engines such as Google, will rank you down if your site is not mobile optimised.
Here at 07 Heaven Design, all of our web designs are made responsive. Therefore, you will never have the issue of visitors/potential consumers not being able to access your site because it is not mobile optimised.
If you have any other questions on Responsive Web Designs, or would like help getting your site set up for mobile commerce, then please contact us by emailing info@07heavendesign.co.uk, or call us on 01702 462667, we will be happy to help!